Apple's OSX Lion upgrade is available from the App store as an almost 4GB download, and a single purchase can update all your computers running Snow Leopard. My concern was that I didn't want to have to download it twice for each Mac I have, but fortunately it's very easy to make a copy after the download has completed and before the install starts.
Note, do this before installing the update!
The App Store downloads the update to a temporary location at:
/Users/<USERNAME>/Library/Application Support/AppStore/444303913/
and then moves the installer to 
/Applications/Install Mac OS X Lion
[ actually /Applications/Install Mac OS X Lion.app ]
Once the installation is done, the files under the Applications directory are deleted.
So when this screen appears: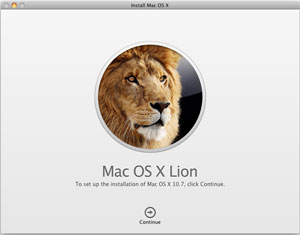 don't click the "Continue" button until you have copied the installer files.
Copy the installer files
Navigate to /Applications in the Finder and then either burn to DVD, copy to a USB stick or an external hard drive the application named "Install Mac OS X Lion". I copied it to an external hard drive (the same one I used for Time Machine Backups).
Now you can go back to the installer screen and click the Continue button.
Run the installer on a second, third, fourth, etc… machine
You can now use the same application to install Mac OS X Lion on another machine. I plugged my external hard drive into my second Mac, copied the installer app over into the Applications directory, and then ran it. OS X upgrade to Lion with no problems.
I might have also been able to run the installer directly from the external hard drive but didn't want to take the chance the installer would be deleted in case I need it again in the future for some reason. You can probably also copy it to a location other than Applications.
Reinstalling Lion from a USB stick
And finally, I'll link to a post on Ars Technica which talks about how to copy the installer file to a USB thumb drive to make your own install disk which should be able to install Lion without having Snow Leopard already installed.
The article by Chris Foresman is available here:
Ask Ars: Do I have to use the Mac App Store to reinstall Lion?