NordVPN vs IPVanish – Which Reigns Supreme?
In the hunt for the best value in a VPN service, there's a pretty broad, confusing market. We compared NordVPN to IPVanish in 9 categories that are important when selecting a VPN. Though some comparisons were close, there is a clear winner between the two.
Protect Your Privacy
Using the internet without a VPN carries a big risk. Just a few dangers to your personal privacy online are:
Criminals who want your personally identifiable information. These people will take your data and open false accounts in your name, or simply sell it on the dark web.
Governments in certain countries do not like their citizens having privacy online
Stores want to scour your data to figure out how to target you with ads
Local police can get a warrant to monitor and collect your internet activity
Without a VPN, your internet service provider can and will sell your browsing data to companies. By using a VPN, all of your internet activity and personal data are safe and secure.
What Makes One VPN Better Than Another?
All VPNs take your direct internet connection and route it through a remote server. This scrambles your information and makes it so that nothing you do online leads back to your actual IP.
All VPNs provide this service, but the difference is in their extras. The added features, customer service, and quality of this protection make a difference. In some cases, the added features provided by one company become industry standards.
Comparing NordVPN and IPVanish
We've analyzed and then compared NordVPN and IPVanish along these most important criteria:
Privacy
Speed
Server coverage
Added features
Customer service
Streaming
Gaming
Torrenting
Price
The result should make it much easier for you to decide which VPN provider is right for you.
Privacy
Privacy is the goal with a VPN, and some are better at this than others. The method in which a company protects your data falls into 2 main categories:
Encryption methods. These are various ways they route and scramble your information
The country in which they reside. What country a company operates out of has a profound effect on the way it keeps or gathers data on its customers
Both NordVPN and IPVanish use powerful, military-grade encryption. Where they differentiate is the country out of which they operate.
NordVPN is based out of Panama, which means they don't need to follow the US, UK, or any other country's privacy laws. Being based in Panama also means that they don't need to follow a gag order. This means if a country like the US requests user data, NordVPN can warn their customers.
A company based in the US would have to comply with a gag order, putting its customers at greater risk. IPVanish is based in the US, which makes them far more vulnerable to the laws that govern that country. In addition, both companies claim to keep no logs of customer activity whatsoever.
It is troubling that IPVanish states that they do not gather data on their customers, as they were found to be lying about this. When pressed for logged data in a 2008 court case, IPVanish not only had been logging activity, but they provided it to the authorities.
While we are not condoning criminal activity of any kind, it's unfortunate that they claim to be a "zero logs" company. The clear winner here is NordVPN by a wide margin.
Speed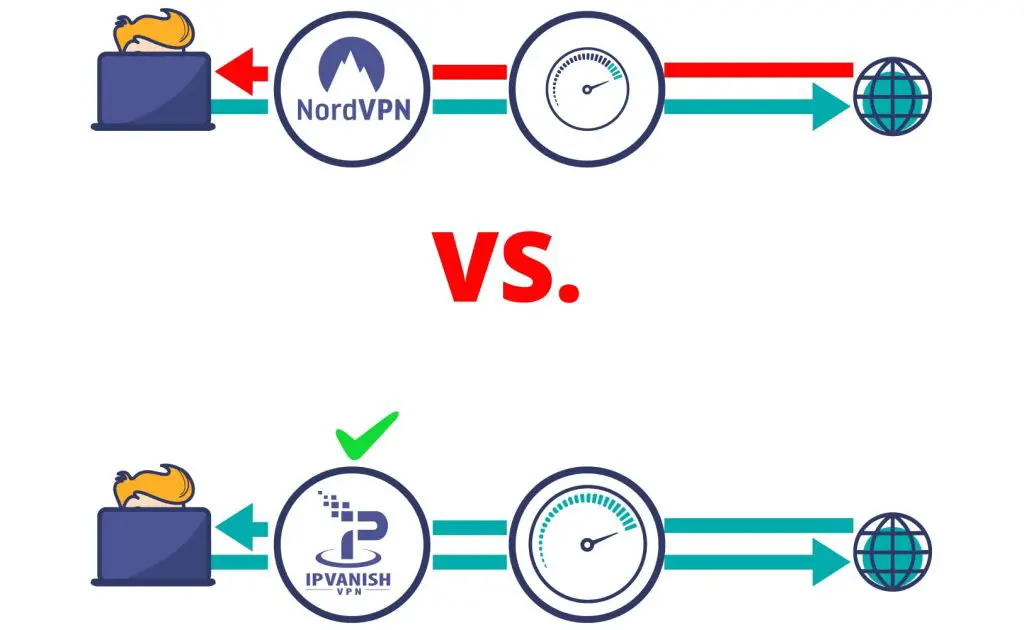 Routing your connection through a remote server will always lower your connection speed. Certain VPNs perform better at reducing this slowdown than others, however. In particular, international connections seem to really drag speed down.
NordVPN's local speed is about 80-83% of the default connection speed which is slightly higher than most VPNs. Your "local speed" refers to VPN servers within the country from which you are connecting.
IPVanish's speed ended up being slower than NordVPN's for local servers – about 60% of the unprotected speed. This is still pretty decent for the protection a VPN provides, but it's lower than their competition in this article. Neither company appears to intentionally throttle customer connections.
NordVPN performs worse in international connection speed tests than many other VPNs, but not enough to be problematic. IPVanish performs slightly better with international connections, beating NordVPN by about 1% on average.
NordVPN is faster on average than IPVanish.
Server Coverage
Server coverage means stronger and more reliable connections from many different countries. This requires both server presence in a given country and a high amount of servers for you to connect to. If one VPN server fails, there needs to be another connection to provide uninterrupted service.
NordVPN has well over 4,000 servers in over 60 countries, but a lot of these servers are clustered in the US and UK. Still, this is very reliable coverage and should give you no problems.
IPVanish has similar country distribution – around 60 different countries – but vastly fewer servers at roughly 1,100. In general, this means it might be harder to find a reliable connection. Because some media is blocked in certain regions, you'll want more connection options.
So if you want to watch a particular show that's only on UK Netflix, you'll need a reliable server to connect to in that area. IPVanish has fewer servers and might not work for you because of that. The clear winner here is NordVPN, with its larger network.
Added Value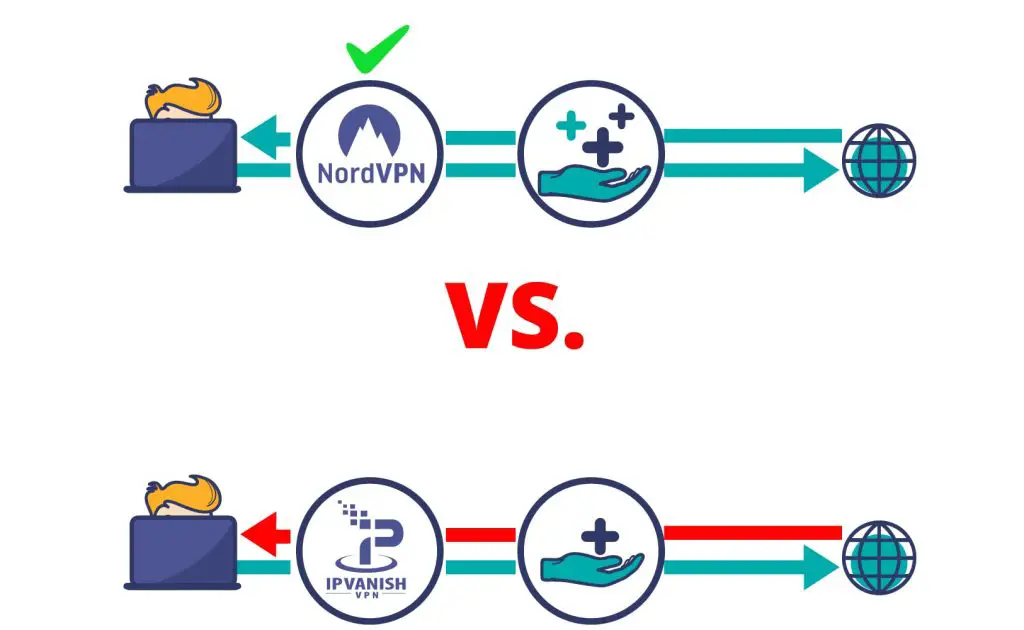 Added value is all the little things that a VPN does to improve their app and service. Since the core feature of a VPN is to keep you secure online, anything beyond that is additional value. Some examples include:
Device coverage – if your VPN only works on your computer, that can be an issue.
Malware and Adware blockers
Kill switches in case the VPN drops
Split-tunneling for when you only need some apps covered by the VPN
Number of simultaneously connected devices allowed
The marketplace for this type of service has become so crowded that added value features are worth discussing. One way in which added values matter is in how many devices you can connect to the VPN at the same time.
IPVanish allows you to connect 10 devices to their VPN at one time, which is higher than nearly all other major VPN companies and is truly impressive. NordVPN allows simultaneous connection of 6 devices, which is still pretty great.
NordVPN functions on over 9 platforms, from Windows and macOS to certain brands of routers, Linux, and others. They also offer browser extensions for Firefox and Chrome.
IPVanish has similar coverage, including Fire TV and Chromebook, but they don't cover any browsers at all. NordVPN offers superior device coverage, but they're both quite good.
In addition, both providers offer a great list of added value features, including:
Kill switch to close out programs if the secure VP connection fails
Cybersecurity benefits that block malware and adware
Unlimited bandwidth
Stealth mode, to get past firewalls that block VPNs
Added security to stop DNS leaks, and again, the redundancy of kill switches on the off-chance that a DNS leak occurs
NordVPN provides double VPN protection, routing your raw connection to an IP and then to another one. Is this a big deal for watching region-blocked content? Probably not, but if your government suppresses your online activity it certainly is.
NordVPN wins here as well.
Customer Service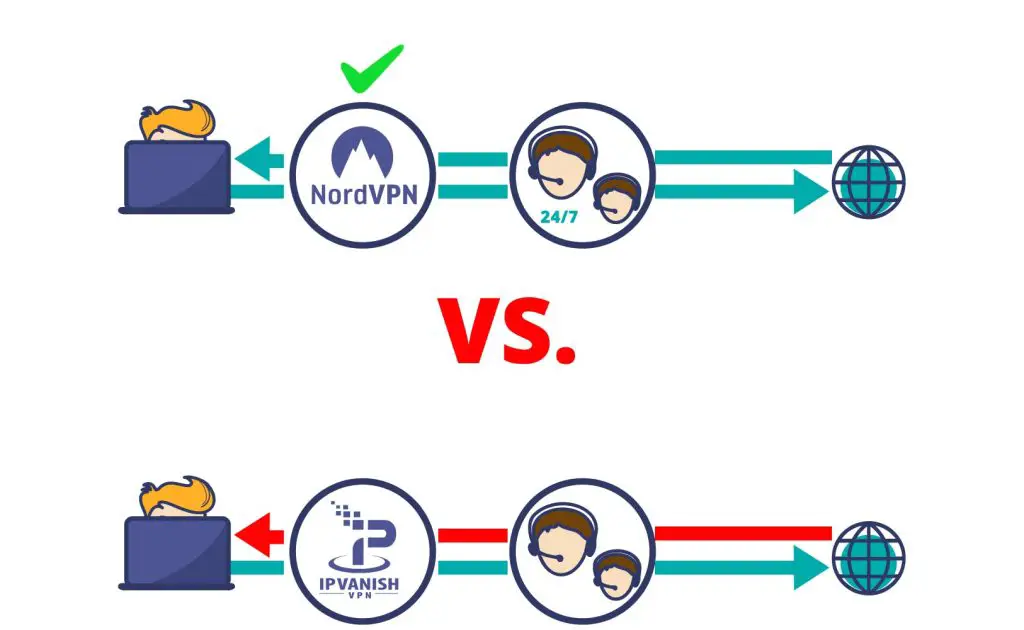 Both NordVPN and IPVanish offer searchable databases of their most common FAQs. They both provide ticketed support systems to help when you can't find an answer on your own too.
Where NordVPN goes the extra mile is with their 24/7 customer chat support feature. In fact, this chat model of service has become a benchmark that a lot of VPN providers fall short of.
NordVPN's customer service is better than IPVanish, and most other VPNs in general.
Streaming
Streaming is a big deal and being able to access blocked content is a real point of contention among VPNs. It used to be far easier to access a streaming service with a VPN, but Netflix has stepped up their security. This has made the ability to connect to their servers with a VPN incredibly difficult.
Netflix notices when many thousands of people are connecting to their servers from the same IP address. Because of this, they have configured their server protection to block IPs they feel are suspicious. Getting around this requires constant updates and maneuvering IPs so it's difficult for VPNs to keep up.
NordVPN isn't the best provider for Netflix access but it beats IPVanish.
One final concern with streaming is the minimum allowable connection speed that Netflix enforces. Both VPN providers meet the minimum 1.5mbps threshold for reliable streaming.
IPVanish does allow for streaming on multiple platforms, but Netflix is not one of them. It also doesn't work with Hulu, the other giant of streaming media.
Gaming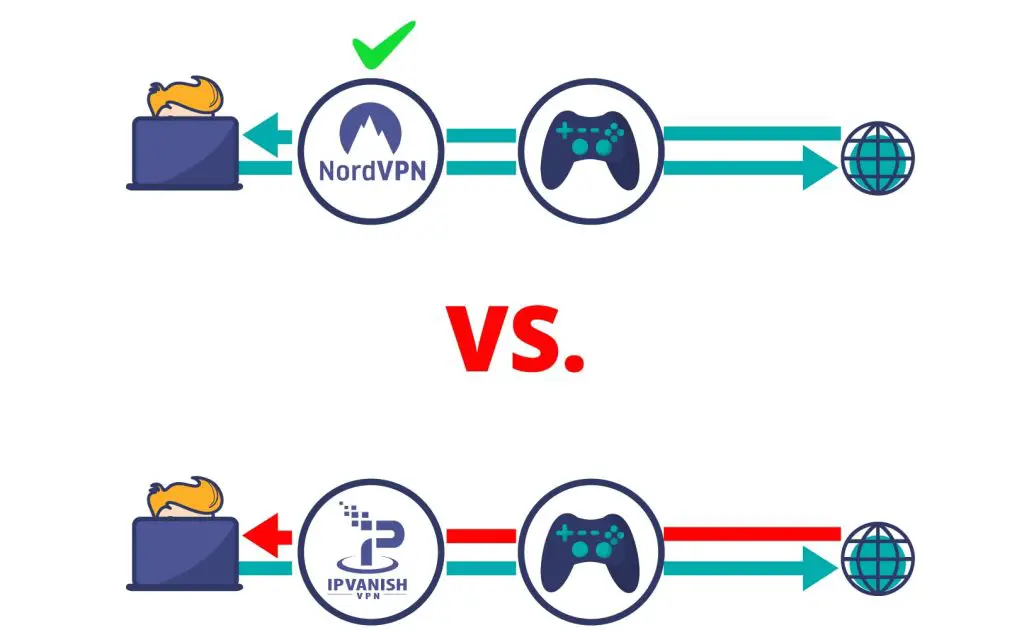 The biggest obstacles to effective online gaming are speed and region-blocking. A slow, throttled connection will kill your ability to play reliably and region-blocking stops you outright. There is also the question of the security of in-game transactions since they are so popular.
One tool that ISPs have to throttle your gaming specifically is called deep packet inspection. This is the behavior of examining and filtering your activity based on what it is, even if it's not taking up a lot of bandwidth.
This allows your ISP to identify gaming or torrenting behavior and throttle it, reducing your connection speed. They then use this as a way to sell you a more expensive plan when all they're really doing is un-restricting your normal internet usage.
Both NordVPN and IPVanish provide speeds fast enough to game with confidence. Also, they both have adequate servers to play region-locked games without difficulty. Both VPNs also block deep packet inspection, so you can avoid ISP slowdown on your connection.
NordVPN has more servers throughout the world than IPVanish, meaning a better chance at avoiding region-blocking. IPVanish owns all their own servers, so though they have fewer servers overall, they are more secure.
Both VPN companies provide quality service for gaming, but NordVPN offers just a slight edge over IPVanish.
Torrenting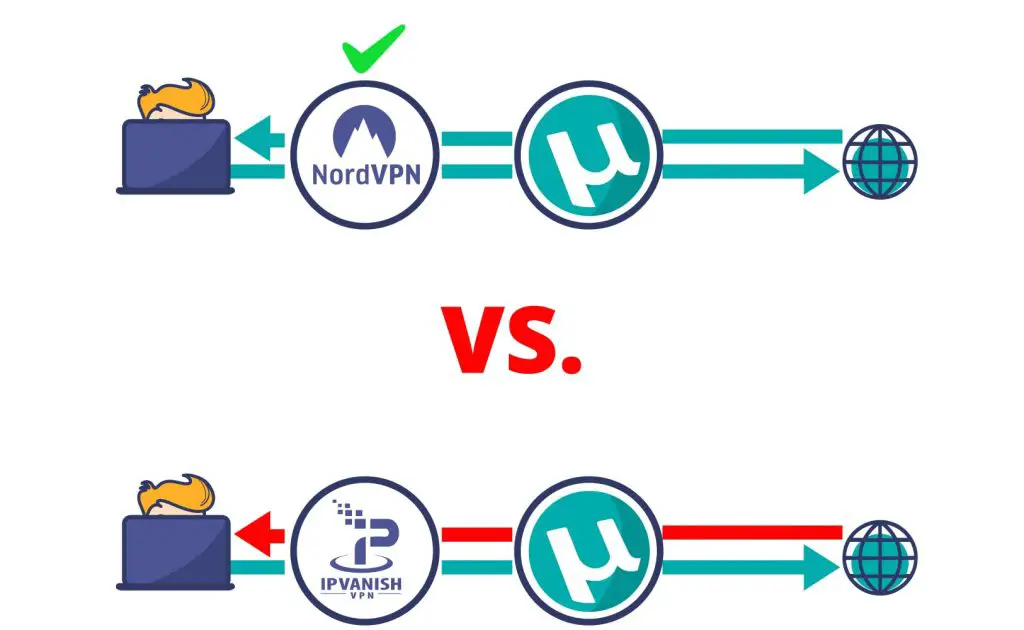 NordVPN has dedicated servers for torrenting whereas IPVanish does not. If you are a dedicated p2p file sharer, this means more people seeding for faster downloads with NordVPN. IPVanish is torrent-friendly, but not to the degree that NordVPN is.
IPVanish does allow torrenting on all of their servers and will not route torrents to slower servers. This is what makes them torrent-friendly, though not optimized like NordVPN.
NordVPN's optimization is not just limited to just a handful of P2P sharing servers. They have some of the largest global P2P server optimization available. This means that even connecting internationally should still give you a great torrenting experience.
NordVPN's double VPN safeguard and kill-switch are another level of protection for torrenting. The double VPN connects your basic internet connection to a remote server, and then from there to another remote server. This is fantastic protection for torrenting activity.
NordVPN has better optimization for P2P sharing across the globe. Add in their double VPN and you've got the perfect VPN provider for torrenting. They are simply better in this area than IPVanish.
Price
NordVPN has a great reputation when it comes to price. They are the only VPN we've reviewed that offers a 3-year subscription at a rock-bottom price of $2.99/month. While IPVanish is cheaper if you want to go month-to-month ($10/month for IPVanish vs $11.99/month with NordVPN), this is the least value you could possibly get.
In addition, NordVPN offers a 30-day money back guarantee, which leaves IPVanish's 7-day guarantee in the dust.
NordVPN's dedication to your privacy extends to their methods of payment. They offer far more payment methods, including:
Alipay
GiroPay
SOFORT
Bitcoin and other cryptocurrencies
This allows you to add further anonymity to your VPN use. IPVanish only accepts credit cards and Paypal, which create a trail back to you.
Final Thoughts
Almost any VPN is better than no VPN, but that doesn't mean you should settle for less. NordVPN beats IPVanish in almost every category save for international speeds. Beyond that, the fact that they claim no logging when they very clearly do is enough to make you shy away.
NordVPN is located outside of the jurisdiction of the more prying countries (US, UK, China, etc). These "Five Eyes" countries can press companies to give up data on their customers, but NordVPN offers better protection in this regard.
IPVanish performs fine on most fronts but doesn't live up to the precedent set by NordVPN in any category.
In service-to-price ratio, NordVPN offers better protection and service when compared to IPVanish. Overall, NordVPN is simply the better service hands-down.
Related Questions
Will NordVPN or IPVanish Circumvent the Great Firewall of China?
The "Great Firewall" is a colloquialism used to refer to the internet censorship in China. The combination of laws and tech that go into this "Great Firewall" make connecting outside of the country pretty difficult.
A benchmark of a good VPN is whether it can surpass this obstruction or not. IPVanish cannot breach China's impressive system of blocks, making it useless in this regard. NordVPN's larger network and double VPN capabilities allow a person in China to work around these obstacles.
What Is a DNS Leak and How Does My VPN Protect Me?
When your computer attempts to connect to a server, there is an exchange of information. With a VPN, this exchange of information is routed through the virtual server first and then to the target server. This is part of what causes the load time when you connect online.
When Windows tried to make DNS connections faster, they did this by making lots of extra little connections. Instead of going through only the VPN, your information might go through all the little connections. This can expose your data to eavesdroppers.
NordVPN owns its own DNS servers, which is the first layer in protecting against leaks. In addition, their software stops any unencrypted DNS connections that are not routed through the VPN tunnel.
NordVPN's easy-to-use software is optimized to prevent DNS leaks from happening without any extra effort you.