This post looks at how to clear the cache in Google's Chrome web browser, which you will need to do if you are experiencing the "waiting for cache" error in Google Chrome. This is a supplementary off-topic post for this blog; normal posts are about PHP, MySQL, Javascript and HTML/CSS and there has already been a Javascript post today (@name selector is depracted in jQuery, removed in jQuery 1.3).
"Waiting for cache" errror
I'd noticed when visiting Slashdot and Digg the pages would never load completely and there was a little message in the status area that appears at the bottom of the window (where link text appears) saying "waiting for cache". The same pages loaded just fine in Firefox. The websites you are affected by will be different from me.
After some web searches it appears to be some sort of cache corruption issue that happens, and the simple way to fix it is to clear the cache and restart the browser.
Clearing Google Chrome's Cache
To clear the cache in Google Chrome click the little more icon (three dots on top of each other) top right of the application window. The menu below appears when you click it. Now click "More tools" and after that click the "Clear browsing data" button.
The "Clear Browsing Data" dialog will then appear as shown in the screenshot below. Most of the options will likely be checked so uncheck the ones you don't want to clear. In the example below I've only left the "Empty the Cache" option checked. You can then choose to clear data from just the last day, the last week, last 4 weeks or everything from the drop down box. You want to clear everything.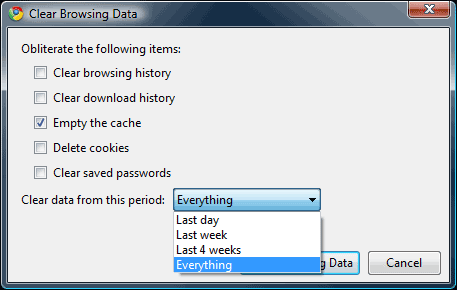 Finally, click the "Clear Browsing Data" button and, as a precaution, restart the browser and you'll have a nice clean cache and the error message should have gone away.