I've recently reinstalled my main desktop computer from Windows 7 Beta 32 bit to Windows 7 Release Candidate 64 bit and had some issues using the bundled application software that comes with Canon's photo printers (in my case the Pixma ip4300). This post looks at the errors and how I solved them.
When I switched on the printer Windows 7 automatically installed its own set of printer drivers. When I tried to use the CD-LabelPrint software I got the error message "A compatible printer for printing CD media was not found" as shown in the screenshot below: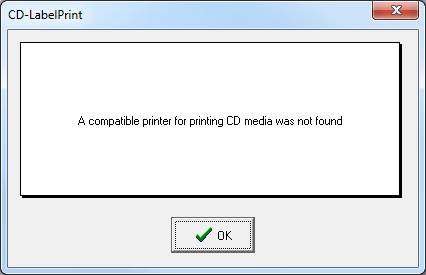 When I tried to use Easy-PhotoPrint I got the error message "No supported printer found. Connect a printer supported by this software" as shown in the screenshot below.
This is a rather confusing error because the printer was installed and was showing up in the list of installed printers.
It turned out the solution is to install the driver from the Canon website instead of using the default driver installed by Windows 7. From my research this also appears to affect Windows Vista, but it may be a 64 bit only problem and not 32 bit.
The drivers can be downloaded from here: http://software.canon-europe.com/