I got an email in my inbox yesterday about the new Amazon Kindle DX with Global Wireless which looks pretty cool. It has a 9.7″ e-ink screen (the older Kindle has a 6″ screen) and e-books can be delivered wirelessly in seconds. It's available for pre-order now for US$489 and will be released on January 19th 2009. Amazon is even shipping the new Kindle to some international destinations (but not to New Zealand where I am).
Kindle DX Features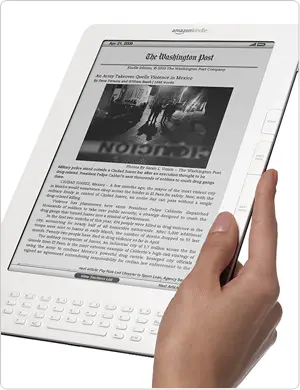 Beautiful Large Display: 9.7″ diagonal e-ink screen reads like real paper; boasts 16 shades of gray for clear text and sharp images
Slim: Just over 1/3 of an inch, as thin as most magazines
Books In Under 60 Seconds: Get books delivered wirelessly in less than 60 seconds; no PC required
3G Wireless: 3G wireless lets you download books right from your Kindle DX; no monthly fees, no annual contracts, and no hunting for Wi-Fi hotspots
Global Coverage: Enjoy 3G wireless coverage at home or abroad in over 100 countries. See details. Check wireless coverage map.
Carry Your Library: Holds up to 3,500 books, periodicals, and documents
Longer Battery Life: Now read for up to 1 week on a single charge with wireless on, a significant improvement from the previous battery life of 4 days
Built-In PDF Reader: Native PDF support allows you to carry and read all of your personal and professional documents on the go
Auto-Rotating Screen: Display auto-rotates from portrait to landscape as you turn the device so you can view full-width maps, graphs, tables, and Web pages
Read-to-Me: With the text-to-speech feature, Kindle DX can read newspapers, magazines, blogs, and books out loud to you, unless the book's rights holder made the feature unavailable
Free Book Samples: Download and read first chapters for free before you decide to buy
Large Selection: Over 400,000 books, including 101 of 112 New York Times® Best Sellers, plus U.S. and international newspapers, magazines, and blogs. For non-U.S. customers, content availability and pricing will vary. Check your country.
Low Book Prices: New York Times Best Sellers and New Releases are $9.99, unless marked otherwise. When traveling abroad, you can download books wirelessly from the Kindle Store or your Archived Items. U.S. customers will be charged a fee of $1.99 for international downloads.
More Information and Buy Online
For more information and to buy the Kindle DX online, visit the Kindle DX page on the Amazon website.